A-Arm.com is a bolt on A-Arm kit for VW Type 1 Ball Joint style frame head and floor pans. This fills a void in the market by providing people with a viable solution to stock VW setup or aftermarket mid travel solutions.
PRODUCT DETAILS
MAIN FRAME: Fully welded and powder coated semi gloss black, the frame bolts directly to your Ball Joint pan head in place of the stock front beam.  Additional mounting points bolt to the front body mount bolts and the firewall.
CONTROL ARMS: TIG welded from 1-1/4″ Chromoly heavy wall tubing and powder coated.  All rod ends are assembled and pre-set for proper wheel alignment.
SHOCKS: Fox coil over shocks with remote fluid reservoirs are included.
SPINDLES: The kit comes standard with heavy-duty COMBO spindles to accommodate a wide variety of aftermarket brake kits.  Spindles with stock ball joint style stubs are optional to use brakes that fit stock VW spindles.
STEERING: The rack and pinion is a professionally modified Jetta unit that has been shortened and machined to fit the aluminum mounting blocks included in the kit.  Tie rod assemblies are also Jetta with machined adapters to mate them to LH rod ends for easy toe adjustment.  Also includes tie rod boots and steering shaft with universal joint to connect to steering column.
HARDWARE: All rod ends are top quality Chromoly steel with self lubricating and self sealing  Nylafiber matrix race for ultimate protection from the elements.  All bolts are Grade 8 with nyloc hex nuts.
Once fitted, your wheel base will be extended 2″ forward and approximately 6″ wider. This is a perfect match for a set of 3×3 arms on the rear.
New to A-Arm.com, the frame, arms and spindles will come powder coated semi gloss black, and the control arms will come sub-assembled with the heim joints preset for proper caster and camber so the customer just needs to set the toe-in and go!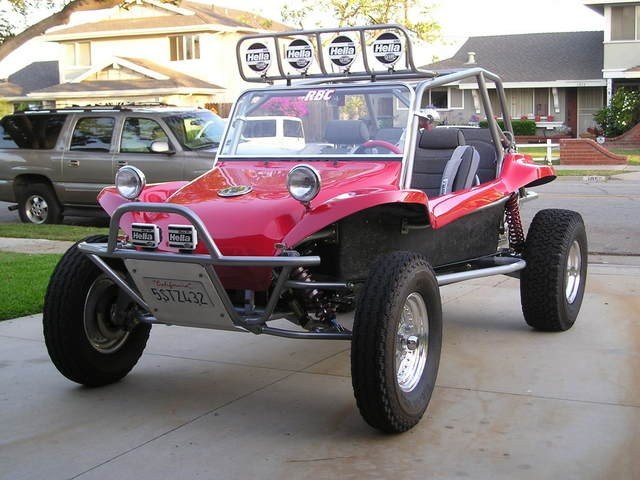 In the last ten years over 70 kits have been sold and our goal now is to keep inventory on hand for quick shipments!  We now have components ready to ship, but we are finalizing installation instruction.